Kindergarten Curriculum
Kindergarten classes are taught exclusively in English in order to help students develop the English proficiency necessary for the bilingual Elementary School program at AIS. AIS administers its Kindergarten program based on Japan's Ministry of Education (MEXT) curriculum guidelines and the curriculum of the Province of British Columbia. The kindergarten has reverse mapped the curriculum to ensure that by the time students reach the 5-year-old Orca class students have the skills and knowledge to be able to access the content of that curriculum. Click here to view the MEXT curriculum guidelines which form the basis of the AIS Education Principle and Policy for our kindergarten.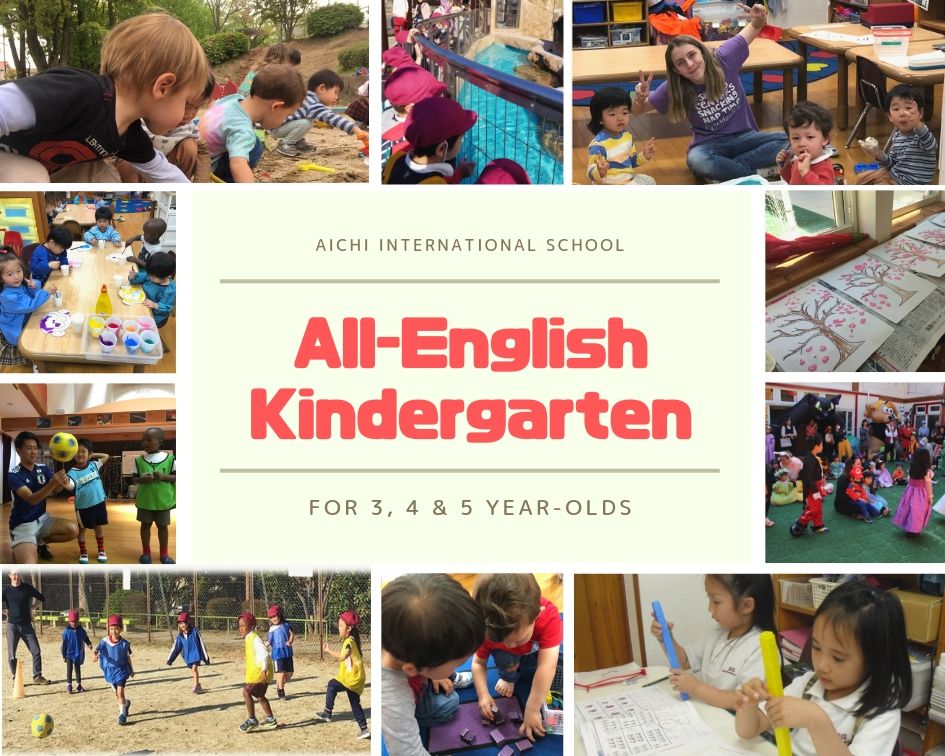 Turtle Class (3 to 4 years old)
We provide a lot of opportunity for your child to learn interpersonal/communication skills, working together in a variety of situations. Our activities include hygiene practices, positive guidance, rhymes/theme, painting/crafts and lessons which further the students' level of fundamental education (ABC's, numbers, shades of colors, animals, shapes, etc.), and also foster their physical development.
An example of the weekly schedule
Mon
Tue
Wed
Thu
Fri
9:00
Drive-Through/Free Play in Dolphin/Orca Room
9:30
Toilet Time/Transition Time
9:45
Circle Time/Morning Phonics and Numbers/Calendar
10:30
Snack Time/Play Time
11:00
Phonics
Math
Phonics
Math
Writing
11:30
Toilet Time/Transition Time
11:40
P.E./Music
Theme/Art
Park
Art/Science
Park or P.E.
12:15
Lunch Time
13:15
Brush teeth/Toilet/Free Play or Outside
13:30
Story Time
13:45
Nap Time/Quiet Time
14:30
Get Ready To Go Home
back to top
Dolphin Class (4 to 5 years old)
From Dolphin, students are expected to show more independence, speak only English and begin reading and writing.Through writing, reading, singing songs, show and tell, art activities and field trips; the children learn not only English, but also lifelong skills such as confidence, listening, good communication and independence in thinking as well as learning.

An example of the weekly schedule
Mon
Tue
Wed
Thu
Fri
8:45
Drive-Through/Free-Play in Dolphin/Orca Room
9:30
Toilet Time/Transition Time
9:35
Circle Time/Morning Message/Flash Cards/Show and Tell
10:15
Toilet Time/Snack Time
10:35
Theme/Art/Science
Phonics
Spelling/Literacy
Phonics
Reading
11:15
Toilet Time/Transition Time
11:20
Sight Words/Spelling
P.E.
Theme/Art/Science
Math
English-Journal
12:05
Toilet Time/Transition Time
12:15
Lunch/Clean-up/Free Play
13:55
Toilet Time
14:00
Math
Music
Park
P.E.
Park
14:45
Get Ready To Go Home
15:00
Home Time
back to top
Orca Class (5 to 6 years old)
The children in this class are five to six years old. Students arrive at nine in the morning and join students from other classes for fitness and play either outside or the hall, depending on the weather. At 9:30, we begin classes, including reading, P.E., phonics, math, science and music.
The Orca class also has a reading scheme to encourage and help the students to read in English. This has been a great success, with some students reading two or three books every week! They can also write the alphabet, many words and short sentences, as well as having story time and art activities in order for the children to build confidence, a sense of independence, cooperation and a love of learning! We do so much in the Orca class that it is impossible for us to write down everything here. So please come and visit our classroom to see what we do. There is always a friendly welcome for visitors in the Orca class!
An example of the weekly schedule
Mon
Tue
Wed
Thu
Fri
8:45
Drive-Through
9:15
Morning Play/Homework Check
9:30
Toilet Time/Transition Time
9:40
Circle Time/Morning Message/Phonics/Show and Tell/Spelling Test
10:15
Toilet Time/Snack Time
10:35
Sight Words/Spelling
Math
Art/Science
Math
English – Journal
11:25
Toilet Time/Transition Time
11:35
Stations/Theme
P.E.
Phonics
Phonics
Class Reading
12:20
Toilet Time/Transition Time
12:30
Lunch/Clean-up
13:15
Outside/Inside Play
13:45
Music
Individual Reading
Park
P.E.
Park
14:45
Silent Reading/Class Activity
15:00
Get Ready To Go Home
15:15
Home Time
back to top