Academic Overview
Aichi International School (AIS) has a mission to foster globally-minded children with 21st century competencies. The three main pillars of the new "Global Society" will be strong communication skills, healthy self-confidence, and a respect for others. AIS is determined to foster these attributes within its students.
AIS is built on a nine-year educational framework: three years of kindergarten and six years of elementary school. This provides children the grounding for post-elementary education and lifelong learning. The number of students in the classroom ranges between 10 to 20, allowing students to engage effectively in all areas of learning.
At AIS, Kindergarten classes are taught exclusively in English, while the elementary school provides bilingual education in English and Japanese in order to help students develop their own identity as well as a global mind. AIS administers its kindergarten and elementary school programs based on Japan's Ministry of Education, Culture, Sports, Science and Technology (MEXT) and the curriculum of the Province of British Columbia, Canada. Nonetheless, our school offers more than English and Japanese language acquisition; from mathematics to physical education, computer technology to violin lessons, our curriculum is designed to support the needs of all our learners.
AIS sets its education standards for teaching and learning on its expectations for what students should know and be able to do at each grade and within each subject area. Their progression is followed in student portfolios, tri-semester report cards, and teacher-parent conference feedback for AIS families.
Formative assessment takes part on a daily basis, and is an integral part of both teaching and learning. In the classroom and around the school AIS teachers continually assess and monitor the students' performance, understanding and knowledge that has been acquired at that moment in time.
Summative assessment happens at the end of a teaching and learning block and provides students with opportunities to demonstrate what they have learned. Internally at AIS, there are opportunities at the end of each unit of study in the core subjects of English Language Arts, Math and Life Science, for students to demonstrate their understanding of the topics they've been studying.
Externally, grades 3 to 6 take the International School's Assessment (ISA) examination in English and Math in Term 2 each year. The ISA online testing is designed especially for students in international schools in Grades 3 to 10. The ISA allows for the comparison of international school students against students in OECD nations, while more importantly, allows analysis of each student's strengths and areas of growth.
Students in all grades of elementary school sit the Criterion Referenced Testing in February each year to assess their knowledge in the core Japanese subjects. Moreover, we administer the EIKEN Institution Based Assessment (IBA) Reading and Listening (RL) test for all elementary grade students twice a year, with the Orca kindergarten class taking the Eiken Junior Silver and Gold tests.
Learn more about our Kindergarten, Elementary School, and ICT programs: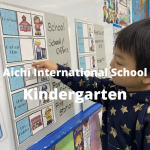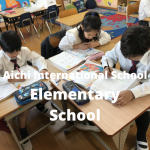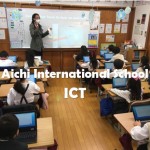 Experienced and Certified Faculty
At AIS, all teachers are required to possess certification to teach a full curriculum of study and child development. Trained overseas or in Japan, our teachers are experienced, passionate and caring. Each teacher guides students professionally, vigorously and purposefully utilizing their specialist field of studies.
Accredited by WASC
AIS is accredited by Western Association of Schools and Colleges (WASC). The WASC accreditation process fosters excellence in elementary, secondary and adult education by encouraging school improvement. WASC accreditation recognizes schools that meet an acceptable level of quality, in accordance with established, research-based WASC criteria.