FAQ
Frequently Asked Questions
Application for Admission
Q: When does the application period start?

A: For Grade One and Pre-K2 (Jellyfish), the admission application starts in the middle of October, followed by the current AIS Orca students' preferred application period. For other grades, an admission application including transfers can be accepted at any time during the school year.

Q: What is the eligible age for enrollment?

A: It is possible to enroll once a child becomes two years old.
Entrance Examinations
Q: Do you have an entrance examination?

A: English and Japanese proficiency tests may be given to Japanese applicants. However, an English proficiency is not considered as part of an entrance examination for foreign applicants. We do interview with all applicants and their parents.
Tuition and Fees
Q: How much does it cost in a year?

A: As for tuition and other fees including an enrollment fee, please refer to "Tuition and Fees". Other expenses related to activities such as summer/winter/spring schools and Australia homestay programs in which students enroll voluntarily are collected separately.

Q: Is it possible to pay tuition and school fees on an installment plan?

A: Tuition and school fees could be paid in term-based installments.
Facilities
Q: Do you provide school bus service?

A: No, we don't. It is necessary for kindergarten students to be escorted by their parents on the way to and from school.

Q: Do you provide school lunch or do you have a cafeteria for students?

A: We have school lunch, but we don't have a cafeteria. Students choose either ordering school lunch (which we order from a school lunch delivery company) or bringing home lunch.
Higher education
Q: What schools do AIS students go to after they graduate?

A: Mainly they go to private junior high schools in Japan. Please see "Future Paths" page for details. However, some students have graduated to go overseas or to international schools within Japan.
School Visit
Q: Can we have a tour of your school?

A: You are encouraged to visit our school on Open House (Information Session) days scheduled six times a year. Please see "Open House" page for details. As for transferring students in the middle of a school year, please contact our office to make an appointment so that our staff can show you around the school.
Other Questions
Q: Is it possible for a student of Japanese nationality to apply for admission?

A: Yes. AIS accepts students of all nationalities. Approximately 80 percent of AIS students are Japanese nationals. However, we have students from Korea, Vietnam, China, Thailand, Brazil, Hungary, the Philippines, Germany, England and Hong Kong. A number of students have entered AIS from non-English speaking backgrounds, and due to the immersion program that we offer, very quickly they have been able to communicate and play with friends, etc. 

Q: Do you have rental uniform?

A: Yes. However, rental uniforms are provided to only foreign students who are planning to attend for less than one years.

Q: Do you have parking?

A: No. Please use coin parking in the neighborhood.

Q: Do you have any club activities?

A: There are art, violin, piano, Chinese language, futsal, tea ceremony classes offered after school.

Q: Do you have an extra-hours child-care service?

A: We provide the child-care service until 6:30pm. Please ask the office for details.

Q: Does the school have a mascot ?

A: Yes, he is a moose and his name is Maurice. The building design (a log cabin) is based on a traditional Canadian style house, plus the curriculum is focused on the British Columbia curriculum, and the bilingual immersion program itself if based on the Canadian model. Therefore, the mascot is one of Canada's most recognizable wild animals … although Maurice is not so wild looking. You can see Maurice on the school uniforms, bags and all around the school.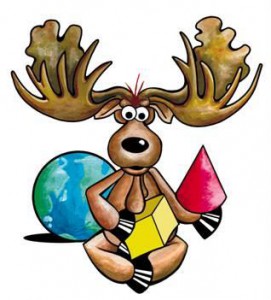 Maurice Moose