AIS Safety Information

AIS strives to ensure a safe and secure environment for all students and staff. The following details are provided to inform current and prospective parents and guardians of our procedures.
+Evacuation Procedure and Drills
+Earthquake Preparation Information for Foreigners in Japan
Updates
Precautionary Measures Against Novel Coronavirus (COVID-19)
(as of Feb. 20, 2020)
Due to the recent increase in reported cases of Novel Coronavirus (COVID-19) in Japan and Aichi, we would like to reassure you that we are closely monitoring the situation, as well as taking advice from central and local government agencies on best practice to ensure the health and safety of our school community.
In order to protect both yourself and your family members, as well as the greater school community, we remind you to follow best practice guidelines:
● All persons (including staff, children, parents and visitors) must spray their hands at the gate upon entering the facilities.
● Any person who has visited a known COVID-19 infected area or been in contact with an infected (suspected) person within the preceding 14 days, must inform the school before arrival.
●Please encourage your child to practice safe hygiene by regularly and thoroughly washing their hands. Our teachers will also be reminding our students of this and other hygiene practices at school. All classrooms and washrooms also have hand sanitizers.
●Masks should be worn by those with a cough or sneezing.
●Please keep your child at home from school and seek medical attention if you notice:
 any symptoms of a respiratory illness
 a temperature of 37.5°C or above
We are grateful for your understanding and appreciate your assistance in helping us keep AIS a safe and healthy school community. We will continue to provide families with updates of this situation. Any questions or concerns can be made to the school office at any time.
Kizuna Net
From April 2019, AIS utilizes the 'Kizuna-net' e-mailing system for communicating urgent messages to parents and guardians in the event of an emergency situation.
With the system, AIS can contact parents and guardians swiftly on their mobile devices by e-mail or app the following timely information:
◆ School closure due to approaching typhoon or other extreme weather alert.
◆ Drop-off or pick-up information in the event of a severe earthquake.
◆ Other situations when all parents and guardians need to be contacted urgently.
New parents will be provided registration details upon admission.
back to top
Evacuation Procedure and Drills
Please read the Aichi International School Emergency Response and Evacuation Procedure
AIS holds drills twice a year to practice evacuation procedure in the event of fire or earthquake. Staff are all given instruction in fire extinguisher use.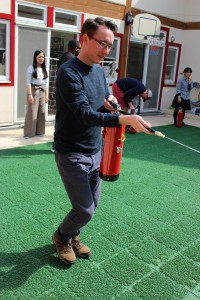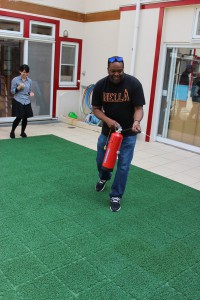 In the event of any emergency, AIS will contact parents and guardians as soon as safe and practical for students to be released. Students who are unable to be picked up by a parent or guardian immediately shall be looked after by AIS staff. *Parents and guardians are advised to provide AIS with up-to-date emergency contact details.
For detailed information of AIS's fire and earthquake protocol, please refer to the Fire Protection Plan for AIS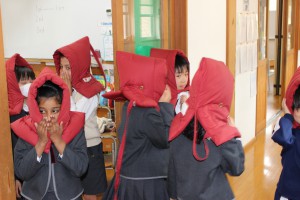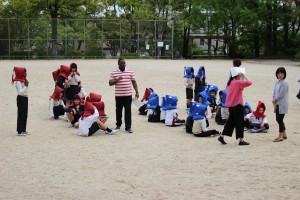 back to top
Earthquake Preparation Information for Foreigners in Japan
The following information supplements are provided in English by the Nagoya International Center.
Information in other languages also available here: http://www.nic-nagoya.or.jp/en/e/archives/3096
back to top
Meito Police
As well as our own school security measures, such as gate closures during the day, AIS has close ties with the Meito Police Station and is only 100m from the nearest koban police box. Being an international school, AIS is conspicuous with students from various nationalities. AIS and the Meito Police cooperate on a regular basis to further ensure the safety of our students. Moreover, Headmaster Mr. Hill, on behalf of AIS, is one of nine community representatives invited to contribute at regular conferences held by the Meito Police to garner feedback, opinions and ideas to enhance local policing.
Meito Police provides information to the public via the "Pato-net Aichi" and "Sugumail" services, as well as by Twitter. Information (in Japanese) available here: Meito Police Information
back to top
First-aid
The school office has supplies and an AED machine should any student require basic first-aid. If further treatment is deemed necessary, parents shall be called for confirmation. However, in the event of a serious accident or illness, it may be necessary to call an ambulance or transport the student directly to the nearest medical facility without delay.
All classrooms also have a basic first-aid kit which is used when needed and taken during school outings or evacuations/drills. All staff have had instruction in CPR and AED at AIS from the Japanese Red Cross.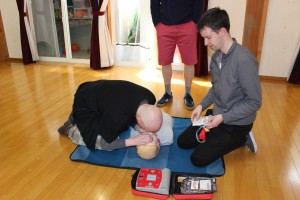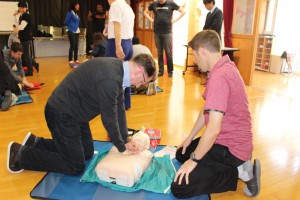 back to top