Sports at Aichi International School
PE Lessons at Aichi International School
The elementary school students have sports lessons three times a week. Their curriculum is based around the British Columbia curriculum, however, as with being an international school the curriculum lends itself to sports from other countries. Japanese students in particular get to experience sports such as cricket, netball and field hockey. Students also have the opportunity to take swimming lessons off campus, at a local sports center, seven times a year. They receive tuition from professional swimming instructors.
Students also have recess time (around 30 minutes) following lunch, and weather dependent can play in the park or in the hall inside the school building.
In the kindergarten the students have the opportunity to participate in sports lessons, both in the school hall and in a wide-open park 15 meters from the entrance of the school. In the adjoining park there are swings, slides and other equipment for young learners to explore. In the summer time, the kindergarten students have the opportunity to play in several huge inflatable pools, inside the AIS courtyard. This gives students the opportunity to challenge themselves and try something new.
Since July 2014 AIS became a member of The Presidential Youth Fitness Program; The Presidential Youth Fitness Program Under The Presidential Youth Fitness Program it helps physical educators assess, track, and recognize youth fitness and physical activity. This program sees the students accumulate points for the hours of physical exercise they participate in. As the students achieve points for the school, these points are tallied, and can be turned into medals; bronze, silver and gold. As the school achieves the targets required for each medal, the students can receive certificates signed by the President of the United States. The school featured in the November edition of the President's Challenge newsletter.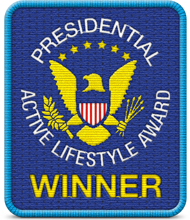 Then, in February 2015, the school achieved bronze medal status after students had participated in netball, handball, football (soccer), benchball, swimming, cricket, softball, athletics, field hockey, benchball and rugby throughout the school year.
AIS has welcomed sports stars to the school. Three sumo wrestlers came to Aichi International School to explain about the sport, and interact with the students.