Latest Info & Highlights
Jump to +Recent highlights
Recent highlights
December 2019 Christmas Concert
AIS held its 'Elflandia' theme Christmas concert just before the elves had to return to the North Pole to help Santa. The students from kindergarten and elementary put on a wonderful performance for all. Happy Holidays everyone!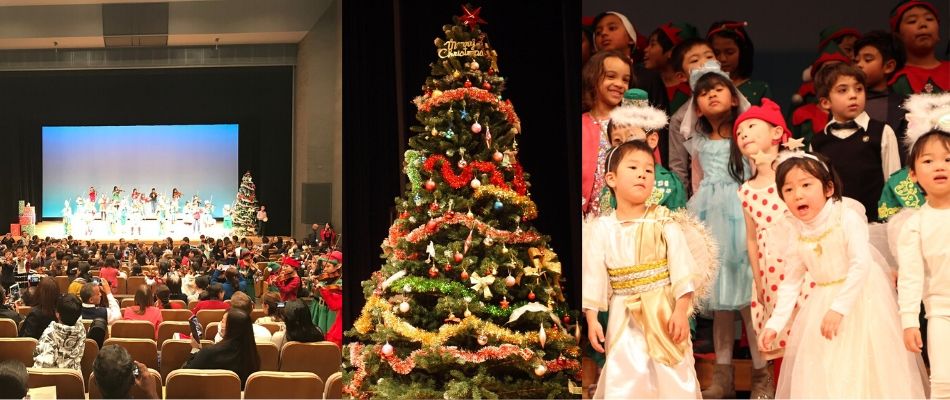 November 2019 Thanksgiving Lunch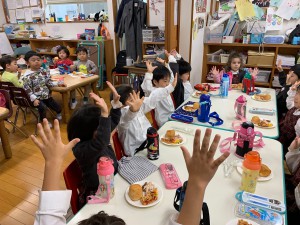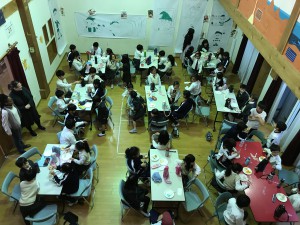 To celebrate Thanksgiving at AIS, all the students enjoyed a scrumptious meal of chicken, pizza and cake in the hall.
November 2019 Orca Class Repeat Soccer Cup Win!!!
AIS repeated last year's performance in the soccer tournament against Child Academy Kamiyashiro Daycare with a fantastic win by the Orca Super Stars!!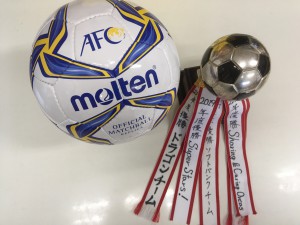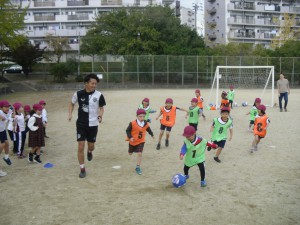 Special thanks to Solapo Sports Club coach Takeuchi who provided a wonderful pre-tournament soccer session.
Well done, champions! Let's go for a three-peat in 2020!!
November 2019 India Day
Namaste from AIS! Today we celebrated the culture of India with wonderful information and displays from our special guests, and a beautiful festival dance performed by 12 students.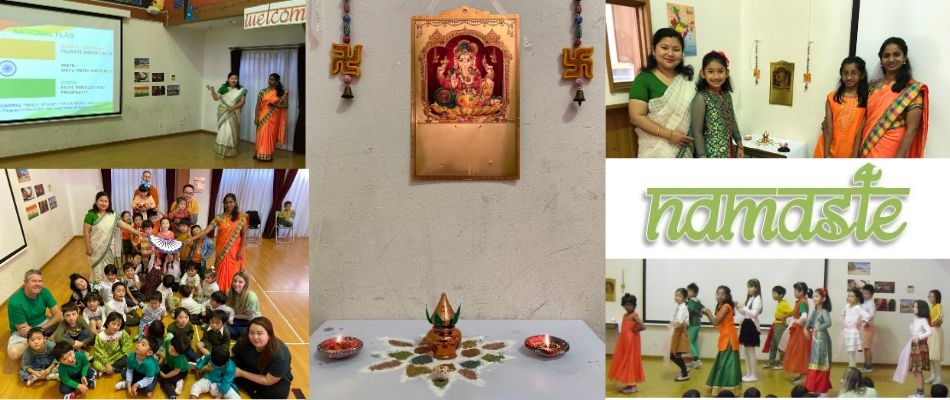 October 2019 Halloween Party
Despite the rain outside, this year's AIS Halloween parties were a lot of spooky fun for the kindergarten and elementary children.
To celebrate cultural diversity as an international school and promote the Rugby World Cup being held in Japan, this year each class prepared their Halloween activities and decorations according to the two teams they are supporting. Learning and having fun at the same time.
September 2019 Grade 5&6 Trip to Kyoto
Grade 5 and 6 students enjoyed an overnight excursion to Japan's ancient capital city, Kyoto. While taking in the sights of Byodo-in, Fushimi Inari Shrine and Kiyomizu Temple among others, the students could appreciate the history and culture of Japan.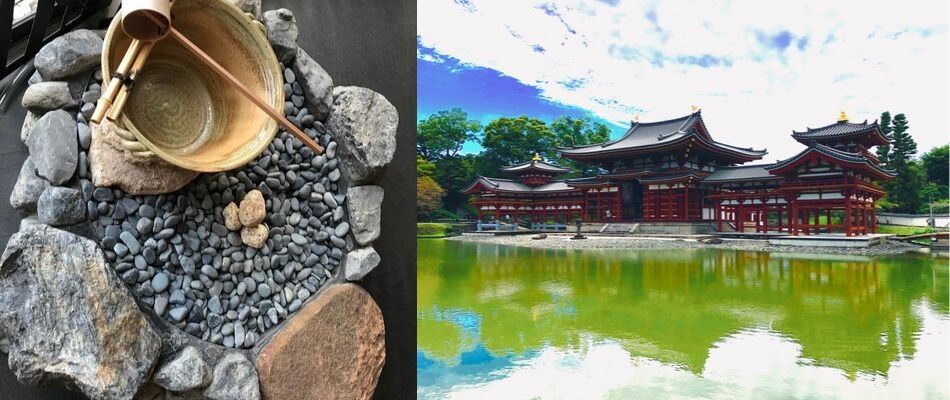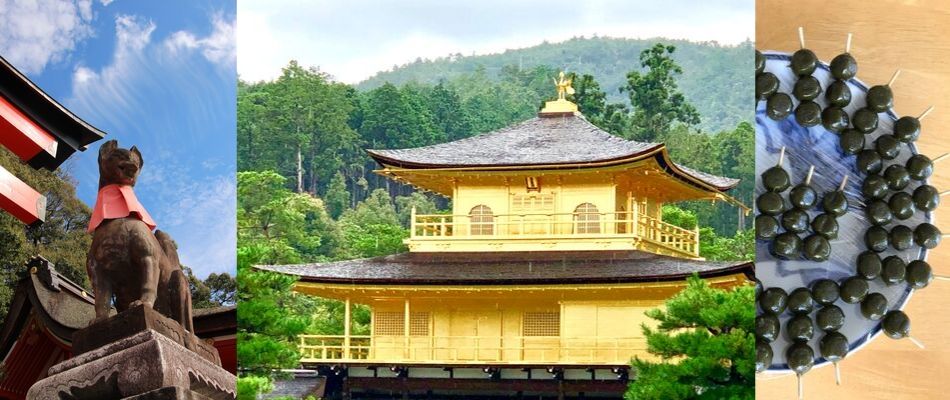 July 2019 Term 1 Violin Concert
This year's first violin concert was a nervous time for the Grade 1 students who have only been playing for four months, but together with the older students, everyone played wonderfully.

<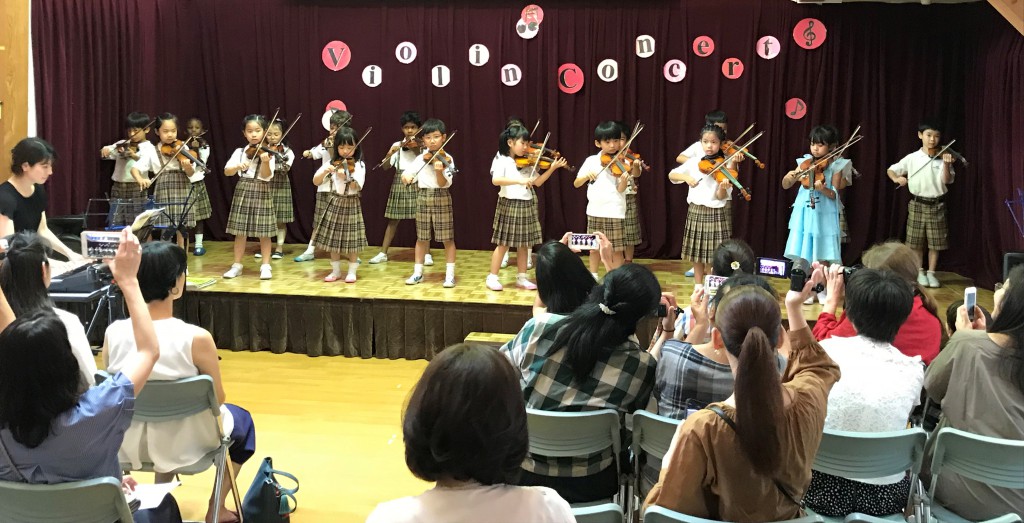 >
July 2019 Tanabata Star Festival
The kindergarten and elementary children had a wonderful morning enjoying many different games, dances and songs to celebrate Tanabata and welcome in summer. Fingers crossed Hikoboshi and Orihime can meet tonight.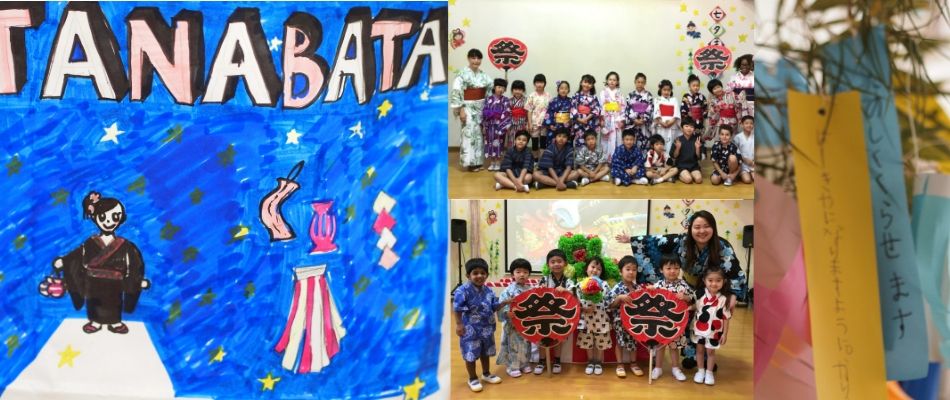 June 2019 Science Expo
The Grade 3 to 6 elementary school children displayed their scientific curiosity and knowledge at this year's Science Expo.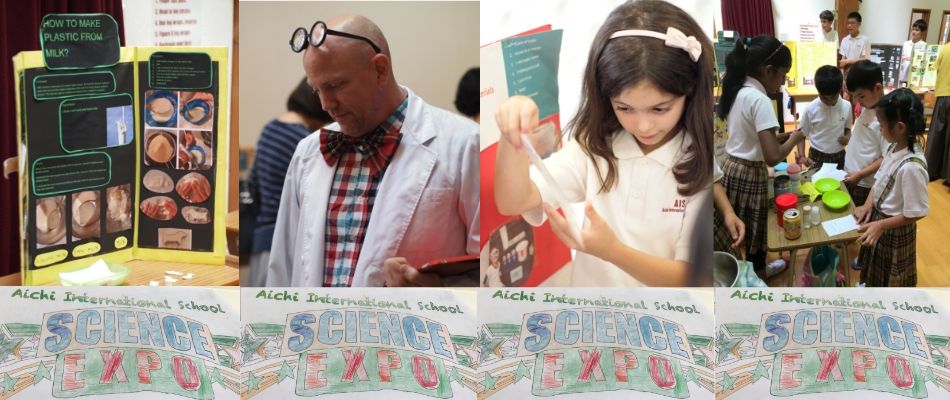 June 2019 Swimming Season Started
The elementary school children began swimming lessons for 2019. For the first class, the instructors held a water safety lesson during which students experienced what it is like swim in ordinary clothes and shoes. With summer almost here, please take care around the water – at the sea, at the river, at the pool, and around home.

June 2019 Romania Day
Bună from AIS. Today we celebrated the culture of Romania. A very big mulţumesc to our special guest Ms. Cristina and her assistants from Grade 2.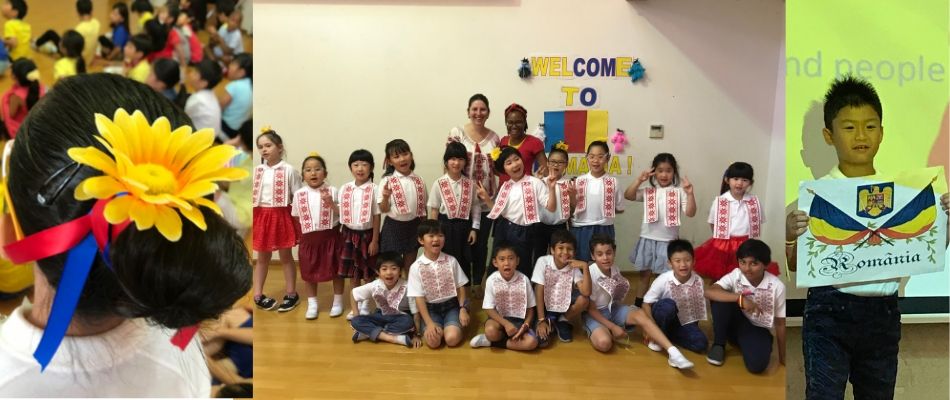 June 2019 Bug Bus
The Bug Bus visited AIS again this year with a big team of crawlies to look and hold. The Bug Bus team members taught us how to keep safe from bugs that bite.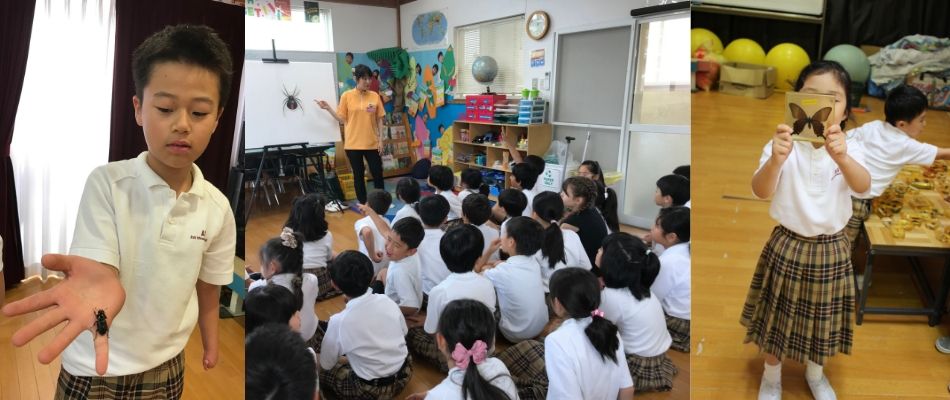 June 2019 AIS Sports Day
Red, yellow, green and blue teams competed in a variety of fun events at this year's AIS sports day for kindergarten and elementary school children. Thank you to all the families who also came along to encourage their children and also take part.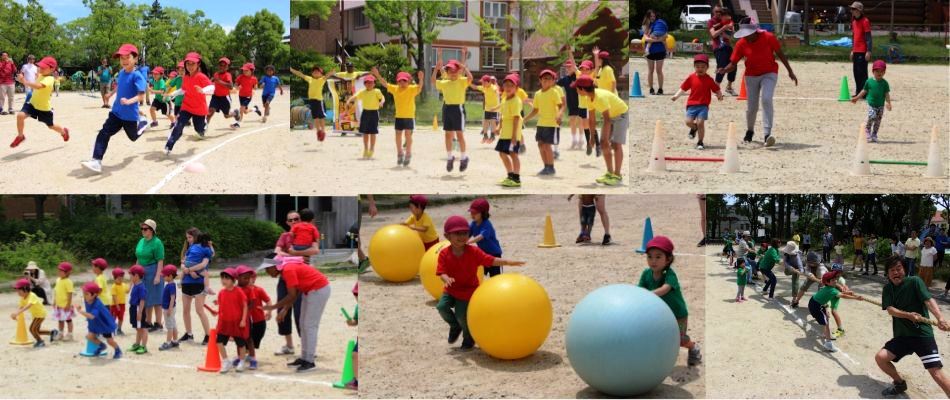 May 2019 Elementary School Field Trip
Today the whole elementary school went to Makinogaike Park for a day of fun recreation. In mixed grades, the younger grade children could explore and challenge themselves with the support of their older peers.

May 2019 Kindy Concert Picnic
Today the AIS kindergarten held a musical family picnic in the park. Everyone had a wonderful mid-day lunch while enjoying the delightful singing and dancing of the Jellyfish, Turtles, Dolphins and Orcas.

April 2019 Easter
AIS children enjoyed hunting for eggs in school and the park to celebrate Easter. In the morning, the elementary school students also made Easter crafts.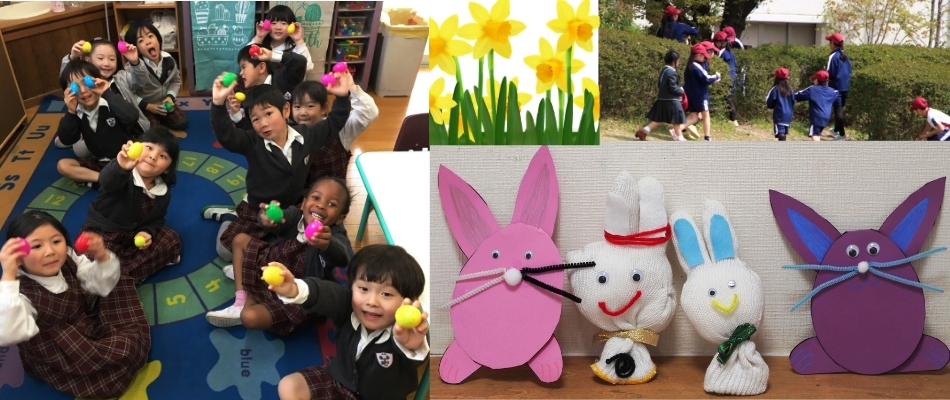 April 2019 Entrance Ceremony
Congratulations to all the new students joining the AIS family.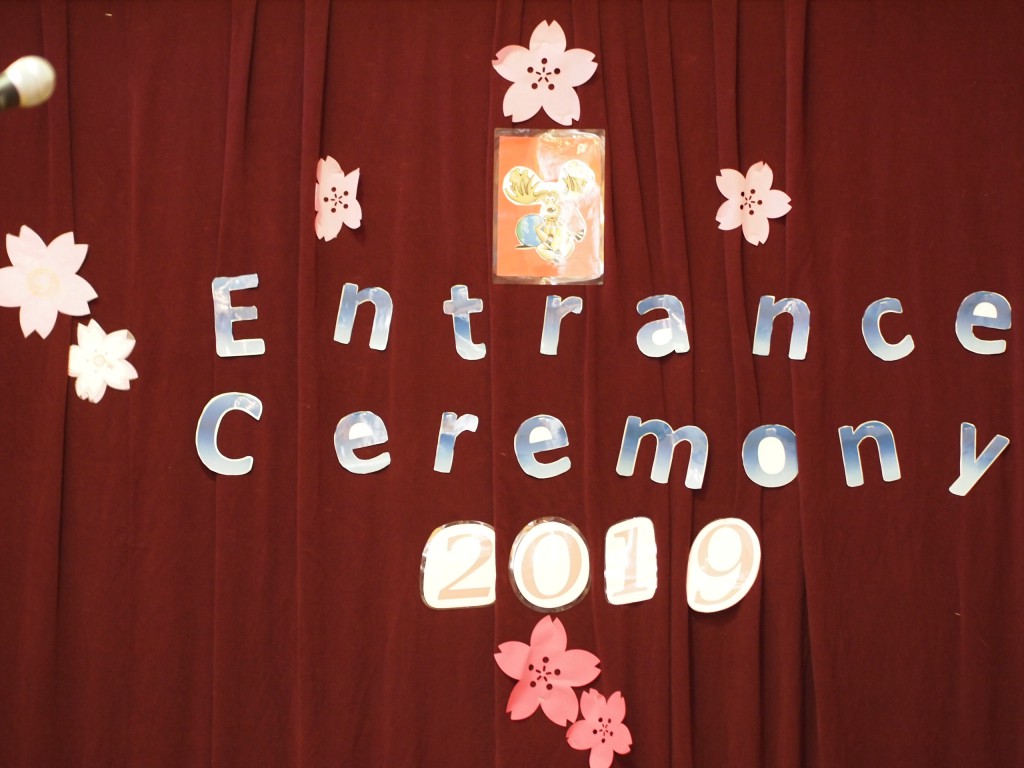 Headmaster's Opening Address
Hello. Konnichi wa. Sa-wat-dee. Ni hao. Anyoung haseyo. Sani bonani. Privet. Namaste. Ayu bowan. Ola. Mambo. Bonjour. Sin chao. Buna Ziwa. Selama dada. Mustaa. Wah gwaan. Kia ora koutou katao. And welcome everyone from around the world to the Aichi International School Entrance Ceremony for 2019.
I am Mr. Hill, the Headmaster of AIS and your MC today, which is a very exciting day for all of us. We are excited to welcome in new and familiar faces to our school community, and I can imagine you and your families are excited to begin a new step in your lives.
Starting a new school is an exciting time to learn new things, make new friends and begin creating a dream for your future. Together with our wonderful teachers and your caring parents, we look forward to helping you bring out your talent to become the best person you can be.
As you can see on the posters on the walls and around the school, we aim for you to use those talents in four key areas: Globally-minded, communication, respect and confidence. Please remember to always keep these in mind every day at AIS.
To all parents, thank you again for choosing Aichi International School for your child's education. With your cooperation and support, we aim to provide the best education for your child. It is with your show of support towards our school philosophy that your child feels your encouragement and pride in their efforts.
AIS is a bilingual school. We ask that you model positive attitudes about all languages, whether you can speak them or not, and model making an effort to communicate with others – we can all learn to say "Hello, how are you?" or "Thank you" in other languages, and if we expect it of our children we should surely be willing ourselves. Quoting Nelson Mandela: "If you talk to a man in a language he understands, that goes to his head. If you talk to him in his language, that goes to his heart."
Please remember to always pass on to your child the value of your home language to access their own heritage. Praise them for their efforts in using multiple languages, not just focusing on one, and acknowledge the hard work they are doing!
March 2019 Graduation
Congratulations to the graduating students of Orca and Grade 6. Dream big for the future from the little things each day!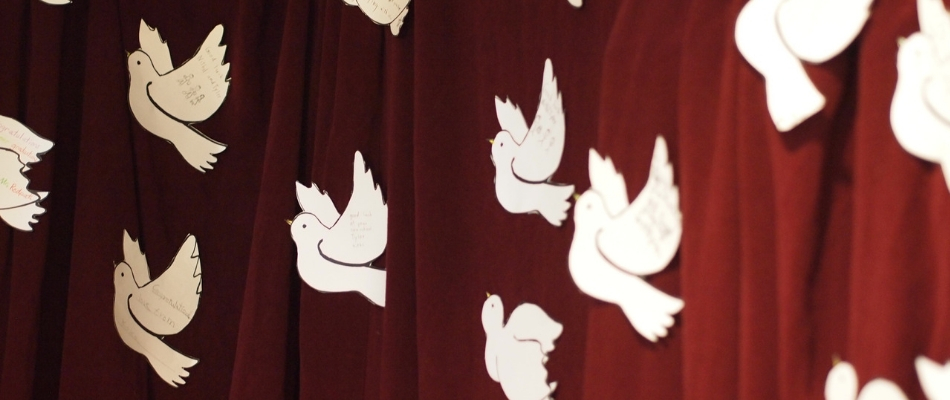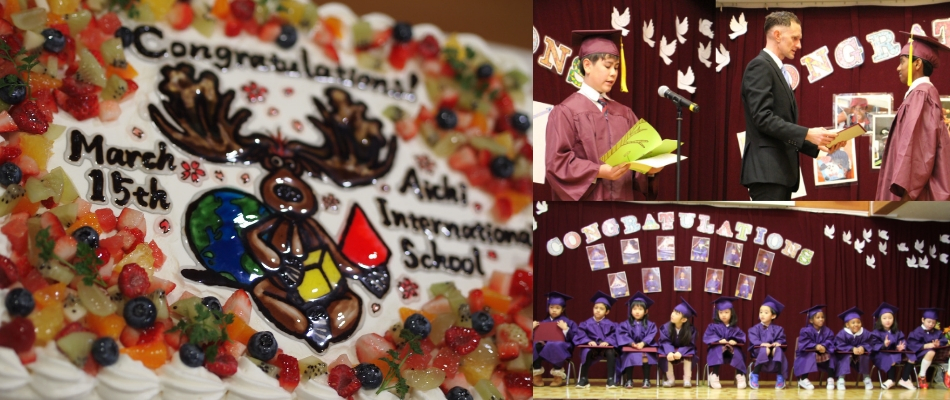 March 2019 Term 3 Violin Concert
Elementary students performed with confidence in the Term 3 violin concert.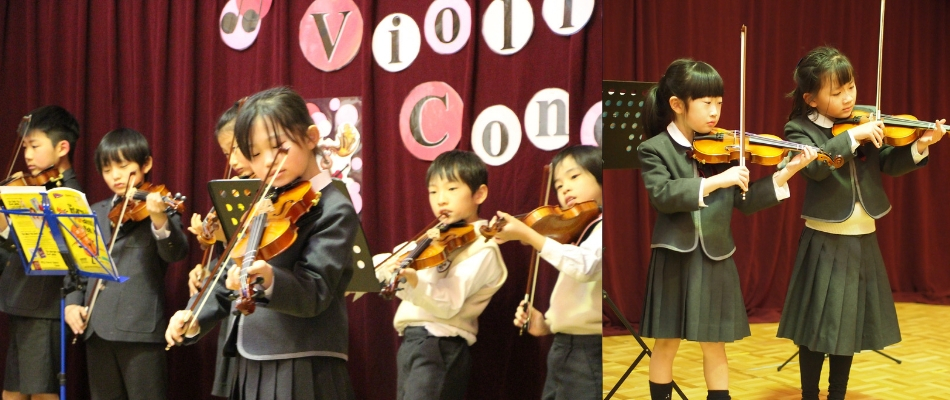 March 2019 Shamisen Concert
AIS students enjoyed a wonderful performance of traditional shamisen music played by the members of Seiyukai. We learned how to sing and dance along to folk songs from Aomori, Hokkaido and Gujo Hachiman. Thank you for a wonderful experience.

February 2019 Kindergarten Year-end Concerts
The Jellyfish, Turtle and Dolphin children joined in unison to sing and perform heartily for us.

February 2019 Speech Contest
Again this year, the Orca through to Grade 6 children at AIS stepped up on stage and gave wonderful speeches in English.
The quality was high this year, making it very difficult for the judges to choose winners. Keep up the great work!

February 2019 Talent Show
AIS students and families were treated to a colorful display of wonderful performances at this year's talent show. Well done to all who took the courage to get up on stage and shine.

January 2019 AIS Feature in NAGMAG
AIS appears in the 'English Education in Nagoya' special feature of the January 2019 issue of NAGMAG, Nagoya's magazine. Read the article below and click here to visit NAGMAG.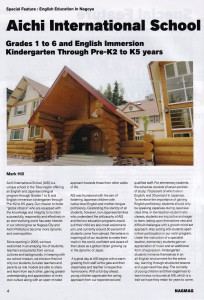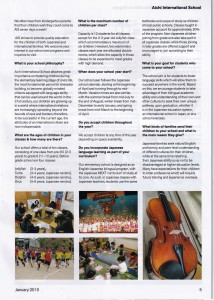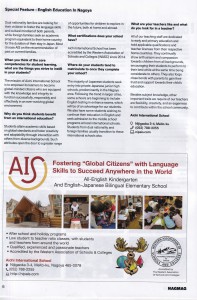 Best wishes for a happy 2019 everyone!
December 2018 Christmas Concert
AIS held its 'Bear-y Merry Holiday' theme Christmas concert last night. The students from kindergarten and elementary put on a wonderful performance for all.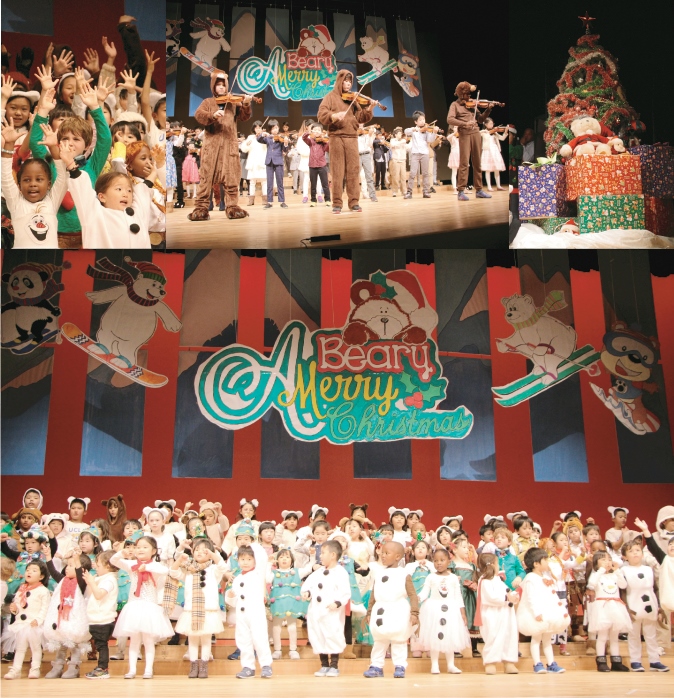 Happy Holidays everyone!
November 2018 Hoshigaoka Terrace Mini Concert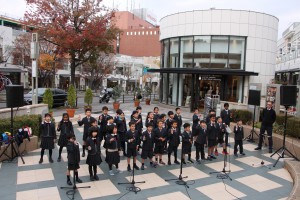 Elementary students from AIS performed some songs for the public from our upcoming "A Bear-y Merry Holiday" Christmas concert. Thank you to all those who came along and gave your warm support. We hope you enjoyed the performance.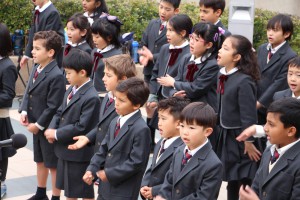 November 2018 Thanksgiving Lunch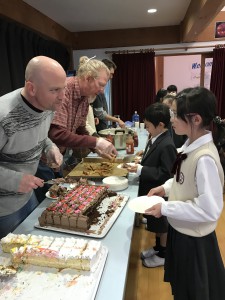 To celebrate Thanksgiving at AIS, all the students enjoyed a scrumptious meal of chicken, pizza and cake in the hall.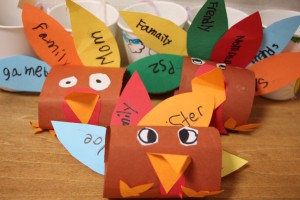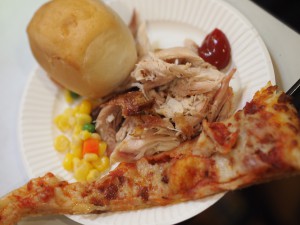 November 2018 Orca Class Unstoppable in Soccer Cup Win!!!
AIS won the Child Academy Kamiyashiro Daycare soccer tournament for the first time in 6 years!!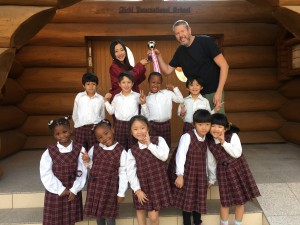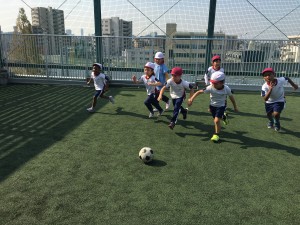 Thanks to JJFC Coach Takeuchi who provided a wonderful soccer session before the summer vacation and hearty practice over the past few weeks, both AIS teams made it all the way to the final, with the Sharing and Caring Orcas taking a 1-0 win over the Super Soccer Orcas. Well done, champions!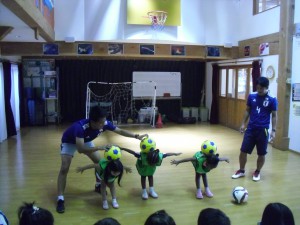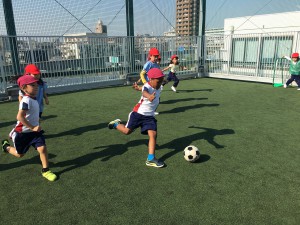 October 2018 Halloween
This year's AIS Halloween parties were another enjoyable highlight of the year.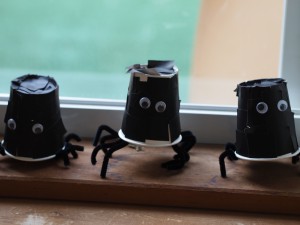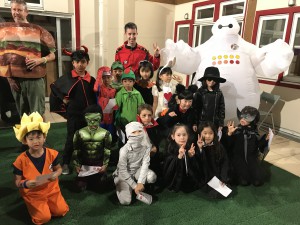 To celebrate cultural diversity as an international school, this year Grades 2-6 on the second floor put in a wonderful effort to introduce other fall festivals from around the world. Downstairs in Grade 1 and the kindergarten was typical Halloween spookiness. Learning and having fun at the same time.
October 2018 Nagoya Festival
AIS set up a booth at this year's Nagoya Festival.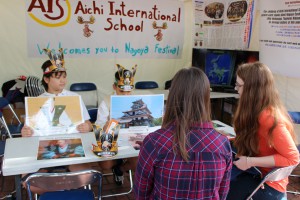 Children from Grades 4-6 presented picture-board stories about Nagoya Castle and the three local heroes (Oda Nobunaga, Toyotomi Hideyoshi, Tokugawa Ieyasu) in English to visitors from abroad and Japan. Thank you for your kind support.
Our booth in the Yomiuri Shimbun! (click to enlarge)